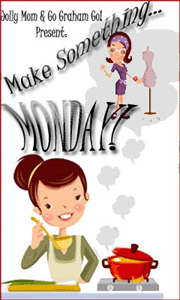 I finally got around to finishing this skirt for Ivy. (It's embarrassing to admit that I have a tendency to start things for the kids and not finish them before they outgrow them.) It is made from New Look pattern 6661.
I did three new things with this skirt:
I added an embroidered apron to the front of it because I saw some skirts like this and thought they were really cute, and because I love the design, and I love the birdcage contrasting with the cats. It's from Urban Threads. They have some seriously cute designs. My wish-list there keeps growing!
I wanted to try my hand at blending a couple different prints, and I really like how it turned out. I see so many cute dresses made from a medley of fabrics and this was my attempt at that.

I bought some bias tape makers a while back and got around to trying one out for the trim on the embroidered apron piece. I used a thin blue fabric with textured dots on it. I'm not sure that it was any easier than just adding trim because the bias tape maker was a little fiddly, but it could be that I'm just not used to it yet. I'll have to give it a few more tries before I decide whether it is really useful or not.
I got some more of the cat fabric the other day in pink colors and a couple matching prints. I may try to make something for Holly so they can be matching.